Description:
Jewel-toned with a translucent finish, Ahijoy's Rainbow Yellow Green Adhesive Vinyl takes the luxury look to new heights. With an array of patterns to choose from including leopard, snakeskin, crocodile and more, you can create amazing designs while exploring your wild side! The animal prints present a perfect contrast with multiple hues in the backdrop enhancing the overall appeal. These translucent vinyl films add allure to any surface they adorn. They can be used on glass, wood, metal, ceramic, and even on phones and laptops.
We have designed products to be easy to use for our customers so even the application process of our Rainbow Yellow Green Adhesive Vinyl is a breeze. All you have to do is cut out your design using either your favorite craft cutter or scissors, and weed out the excess vinyl. Then apply transfer tape on top and paste your design to the surface of choice. Smooth out the design to avoid bubbling and remove transfer tape. You now have a chic and glamorous, ready to use end product.
If you want to avoid the expensive hassle of revamping your home through decor, you can enjoy an upgrade on a budget with our Rainbow Adhesive Vinyl. We, at Ahijoy make the luxury experience accessible to all with our craft vinyl. Upgrade your walls, make colorful frames and mirror decorations or simply personalize your wallet with a catchy design, the possibilities are endless. You can even apply intricate designs made from our vinyl to mugs, cups, and glassware. The added advantage of our product is that it can be used outside as well due to its durability and waterproof quality. This Rainbow Vinyl is a unique asset in the catalog of any small business owner who is looking to provide out of the ordinary merchandise. That is not all as these are a definite buy for people who love scrapbooking or making DIY art projects. Unleash your creativity today and buy from Ahijoy!
Specifications:
Durable, waterproof and environment-friendly.

Colors available: An array of colors.

Sizes available:

12''x 24''

12''x 36''

12''x 48''.

Custom sizes are also available upon request.

Finish: Translucent.

Pattern: Peacock Tail, Crocodile, Fish Scale, Leopard, Snake.

Packaging type: Roll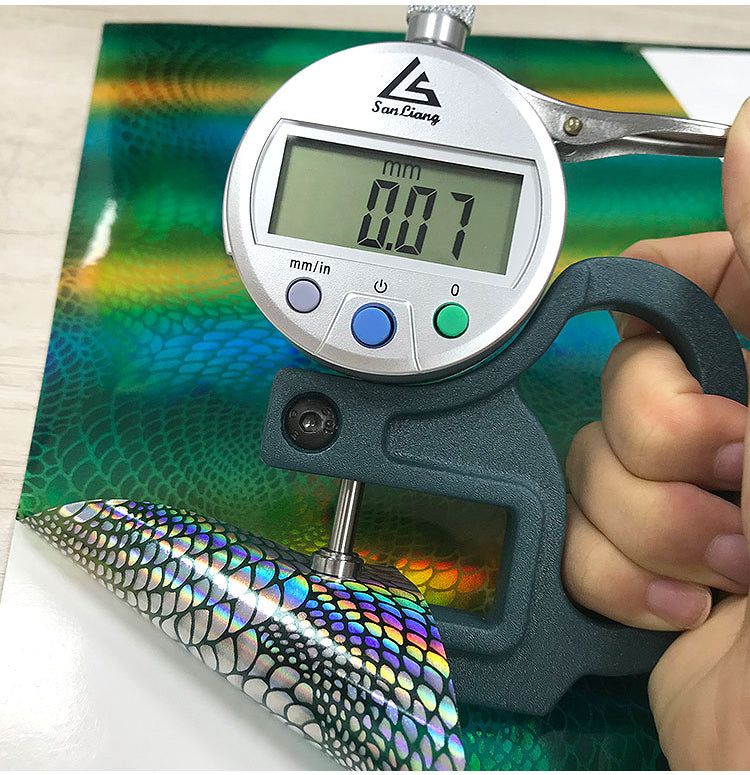 If you have any issues/concerns, please do not hesitate to contact us: support@ahijoy.com